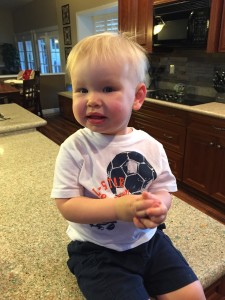 There is nothing I love more than being a father. The journey has been amazing. What continues to baffle me, however, is the amount of lessons my little toddler has taught me during his not even two years on this Earth. He can barely speak a sentence, yet some things he has shown me have forever impacted my way of living. Quite often he teaches me these "lessons" when I am trying to instill something in him – it seems to always work both ways.
For example, my wife read about this particular concept in a book. Essentially, when my son gets overwhelmed, frustrated or if it seems that a tantrum might ensue we simply tell him to "fold your hands and get some self control." Much to my surprise – this method works like magic! Each and every time he quickly stops what he is doing, folds his hand and calms down. Swiftly he returns to his happy place.
I understand why this works; it gives him something to focus on other than what it is that has frustrated him.
How does this relate to our walk with God?
So many times we can become overwhelmed by the world around us – the situations, the failures, the defeats and we enter into a time of anxiety, stress or doubt. Just as I say it to my son, I believe God says it to us "Fold your hands, and get some self control."
Prayer solves everything.
Everything.
If things are in dismay and we try to solve it ourselves, I promise, we will only create more dismay and chaos. On the contrary, if we pause, fold our hands and give it all to Him – how quickly things will change.
I love the reaction that Jesus gave to the storm in Mark 4:35-41.  We read that the disciples and Jesus were all in a boat as a furious storm invaded. As the disciples go into panic mode, they find Jesus asleep in the boat. They wake him with an accusation saying "Teacher, don't you care if we drown?" Jesus then turns to the wind and waves rebuking it and everything went calm.  He then responds to his disciples in verse 40: "Why are you so afraid? Do you still have no faith."
Jesus demonstrated how we should behave during the storms. Controlled and at peace. We should know that God is always in control – no matter what is happening outside the boat.
Today, let me encourage you with the same words I share with my son: fold your hands and get some self control. Focus on the one who IS peace and I promise that peace will ensue in your life.
Question: How do you get self control through a storm?